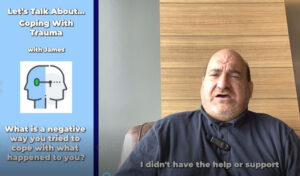 This month James taught us about:
Feeling Not Worthy of Life
Feeling like you aren't worthy of living
Feeling that life isn't worth anything
Not feeling guilty about what happened in your life
Negative Ways of Coping
Negative ways of coping with loss
Not having the help or support you need
Helping when a person experiences a lot of trauma
If you are part of the LGBTQ community and are feeling like hurting yourself, you can call, text, or visit The Trevor Project any time for help: https://www.thetrevorproject.org/

Have you seen this website Helping Survivors of Sexual Abuse & Assault? They have lots of information about sexual abuse and assault. If you want to learn more about the types of sexual assault, learn how you can stay safe, or get resources, they have it here:  https://helpingsurvivors.org/
Subscribe to our YouTube channel for more great videos! Follow us on Facebook, Instagram, and TikTok.