Strategic Education Solutions and the Eunice Kennedy Shriver Center at the University of Massachusetts Chan Medical School are working together to help people with IDD live rich, full, and safe lives.
Founded in 2004, SES provides high-quality curriculum planning, development, marketing, and research services to public agencies and private companies. We thrive on balancing innovation with practicality in pursuit of providing the highest-quality products and services to our clients. And we never forget who our ultimate client is—the learner.
The Eunice Kennedy Shriver Center is dedicated to understanding and improving the challenges faced by people with intellectual and developmental disabilities. We conduct cutting-edge research, offer world-class education and training, and provide high-quality services with the goal of enhancing health, safety, and quality of life of people affected by IDD.
Funding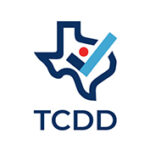 This work is supported by the Texas Council for Developmental Disabilities through a grant from the U.S. Administration for Community Living (ACL), Department of Health and Human Services (HHS), Washington, D.C. 20201, with a 100% federal funding award totaling $5,907,507. Council efforts are those of the grantee and do not necessarily represent the official views of nor are endorsed by ACL, HHS, or the U.S. government.
Este trabajo cuenta con el apoyo del Consejo de Discapacidades del Desarrollo de Texas a través de una subvención de la Administración para la Vida Comunitaria (ACL), Departamento de Salud y Servicios Humanos de los Estados Unidos (HHS), Washington, D.C. 20201, con un 100% de financiamiento federal por un total de $5,907,507. Los esfuerzos del consejo son los del beneficiario y no representan necesariamente los puntos de vista oficiales de ACL, HHS o el gobierno Estados Unidos.